Reporters on the Job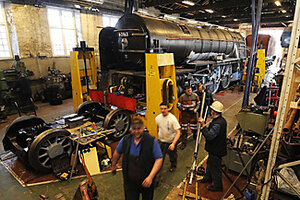 John giles/AP
• Familiar Faces: Staff writer Scott Peterson has written several stories about Iran's largest opposition group in exile, the Mujahideen-e Khalq (the MKO or MEK). But this time when he checked up on those who had been trickling back to Iran from Iraq , he found a surprise at the offices of the Nejat or Rescue group that helps former MKO members reintegrate into civilian life in Iran.
Nejat is run by former MKO militants. Among them, Scott recognized Arash Sametipour, an English-speaker who had conducted a failed assassination attempt and then blown off his right hand while trying to kill himself to avoid capture.
"The last time I saw him, he was wearing a prison uniform in a Tehran jail," says Scott, who had interviewed Mr. Sametipour along with several other MKO prisoners. "Today he is the main liaison between Nejat and the Red Cross. He is now trying to find a home for those 100 or so MKO members who recently left Camp Ashraf in Iraq."
– David Clark Scott
---