Tibetans join anti-Olympics chorus
Exiles in India vowed to defy a police ban on their march to Tibet, launched Monday.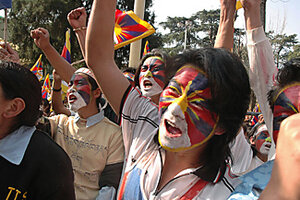 Ashwini Bhatia/AP
In a graphic illustration of the pitfalls for China in hosting the Olympics, a few hundred Tibetan exiles launching a six-month march to their homeland grabbed international headlines despite being stopped within hours by Indian police.
The protesters, aiming to arrive at the Indian border with Tibet on the opening day of the Games to draw attention to Beijing's often harsh rule over their region, have succeeded again in using the Games to put Beijing on the defensive.
In the wake of Steven Spielberg's resignation as artistic adviser to the Games in protest against China's role in Darfur, the Tibetans have thrust themselves into a "galvanized international focus on the Olympics as an event that might not work out well for China," says Robbie Barnett, a Tibet expert at the Weatherhead East Asian Institute in New York.
"We wish to unveil the true face of China," says Lobsang Yeshi, a coordinator of the march. "This kind of tyranny [in Tibet] will become open for the world to see … and we see the media coming out to hear the other side of the story."
---