At E.U. summit, climate change billed as major security risk
EU foreign affairs chief Javier Solana warns in a new report that detrimental climatic changes could drive millions of migrants to Europe from developing countries.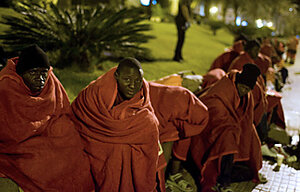 Santiago Ferrero/Reuters
Rising sea levels are what some nations fear most about global warming. But in Europe, climate change is likely to mean a new flood of immigrants from Africa and other poorer countries, according to a new report.
That was one of the issues before the heads of state from the 27-member European Union as they gathered in Brussels Thursday and Friday to address climate change and, in particular, the security threats it raises.
Unchecked climate change could not only cause a flood of new environmental migrants to Europe, it could spark instability in energy-producing states and lead to the collapse of fragile states around the world, says the report by EU foreign-policy chief Javier Solana and Benita Ferrero-Waldner, the European commissioner for external relations. Climate change, the report says, is a "threat multiplier" which "intensifies existing trends, tensions, and instability."
European leaders say they have an important role to play in leading the world towards an agreement to reduce greenhouse-gas emissions – and that's on this meeting's agenda, too. But increasingly, EU leaders are also seeing the need to prepare for the impacts of climate change at home. Meeting those challenges, analysts say, may require greater coordination of foreign policies.
---