West Coast salmon season imperiled by low stocks
With chinook at record lows in the Sacramento River, fishery will set limits in April.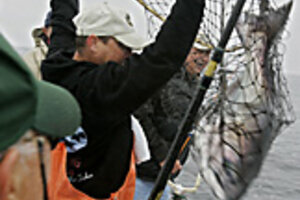 kurt rogers/the san francisco chronicle/ap/file
Dave Bitts, a Eureka-based salmon trawler for more than 30 years, says he could lose half his yearly income, and coastal towns from Oregon to the Mexico border will lose a mainstay of their economy and culture.
Savina Duran, manager of Sea Harvest restaurant in Moss Landing, Calif., says diners will have to forgo a hot-ticket menu choice – wild, fresh, local salmon – for cheaper, farm-grown varieties from elsewhere.
Steve Scheiblauer, harbor master for Monterey, Calif., says the town could lose the quaintness of a coastal California fishing village as fleets of fishing boats disappear from the harbor.
Their concerns come with the cutback – and possible shutdown – of ocean salmon fishing in California and Oregon. It could happen because US government assessments showed the spawning chinook at half the minimum number needed for current statewide industry demand.
A total shutdown of salmon fishing – one of three options to be decided by April 6 – would be the biggest fishing closure in West Coast history, experts say.
"The status of Sacramento [River] fall chinook has suddenly collapsed to an unprecedented low level," says Donald Hansen, chairman of the Pacific Fishery Management Council (PFMC) – a quasifederal body that assesses and recommends environmental policy to the National Oceanic and Atmospheric Administration (NOAA). "The effect on California and Oregon salmon fisheries is a disaster by any definition."
---