Reporters on the Job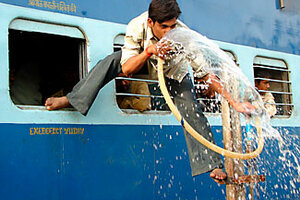 Jitendra Prakash/Reuters
• Ethanol From Sugar: Correspondent Andrew Downie was prompted by several events to write about Brazil's ethanol difference.
The UN special rapporteur on the right to food called growing crops for fuel "a crime against humanity."
The March 27 cover story in Time magazine "The Clean Energy Scam" drew howls of protest in Brazil.
And Brazilian President Luiz Inácio Lula da Silva made a series of statements defending his country's ethanol production. "He likes to use soccer metaphors," says Andrew. "In this case, he said it was like Brazil has an average team with one great player. The other teams are trying to kick that player, to foul him."
Has Andrew made the switch to ethanol in Brazil where about two-thirds of new cars sold run on the fuel? "My editors don't pay me enough. I'm still driving a 10-year-old car that runs only on gasoline," he says.
– David Clark Scott
World editor
• Monday, May 5:
Beijing – Tickets for the Summer Olympics go on sale.
Havana – IV International Conference on The Work of Karl Marx and the Challenges of the 21st Century.
---