For extreme sports fans, Olympics adds jumping cyclists
For the first time, the Summer Games will include BMX cyclists. Beijing wants some of the edginess that snowboarding added to the Winter Games.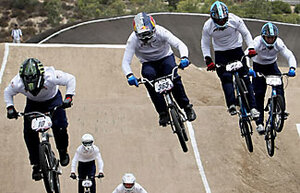 Doug Pensinger/Getty Images
Chula Vista, Calif.; and Chicago
The Summer Olympics have been searching for Jill Kintner.
It takes a peculiar sort of person to do what she does on the BMX racing circuit – jumping 40-foot gaps and plunging down three-story start ramps, pedaling furiously at speeds that would get cars a ticket in a school zone.
She is Evel Knievel on a dirt bike, and for all the Summer Olympics' cultural and athletic gravitas, it has never had what Kintner and her fellow riders offer: street cred among America's suburban set.
The addition of BMX racing to the Beijing Games is a clear attempt by the International Olympic Committee (IOC) to bring snowboarding's extreme-sports chic to the summer side – exchanging sprinting lanes and starting blocks for 30-odd seconds of head-knocking, m*etal-twisting mayhem packaged for the Wii Generation.
The Winter Olympic Games turned to snowboarding and freestyle skiing largely out of necessity, struggling to stay relevant in a suburbanized world that had no connection to ski jumping or luging. But the program for the Summer Games is full to bursting – baseball and softball have already been cut from the 2012 London Games.
The inclusion of BMX adds to the Summer Games that element so conspicuous in the Winter Games, yet largely lacking in the warm-weather edition: danger.
---