Al Jazeera English looks at news through a different lens
The 20-month-old channel expands its global audience but barely penetrates US market.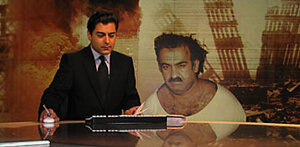 sean miller
Paul McKinney wants the story. Now. All afternoon, Mr. McKinney, an executive producer in the Washington broadcast center of Al Jazeera English (AJE), has been hoping to air a report about a captured rebel computer in Colombia.
The laptop, seized by the Colombian military, is purported to carry information linking leftist guerrillas in Colombia with Venezuelan President Hugo Chávez – which, if true, could provide perfect ammunition for critics of Washington's chief antagonist in the region. Yet when AJE finally airs the story, it goes to considerable lengths to reach the other side, too. In a live interview with a Chávez supporter in Caracas, AJE anchor Ghida Fakhry asks the woman: Could the laptop be part of a US "smear" campaign against Mr. Chávez? Certainly, replies the Chávez supporter. Ms. Fakhry continues: "Do you make much of the fact the US has activated its fourth fleet in Latin America?"
The questioning might strike some in the US as typical of the tone of an Arab-owned news organization: seeing sinister US motives, or the CIA, behind every bush and computer byte. But producers at AJE would argue that it's just the kind of tough, truthful reporting that other American news outlets don't do – and should.
---