Market crisis may shape the Canadian vote
Premier Harper is favored in Tuesday's vote, but slipped in polls over economic woes.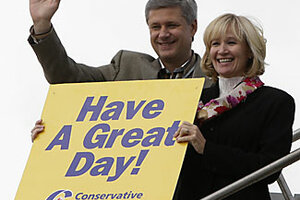 Chris Wattie/Reuters
As Canadians head to the ballot box on Tuesday, the meltdown in global stock markets and a series of campaign blunders seem likely to deny conservative Prime Minister Stephen Harper his goal of forming a majority government.
Polls over the weekend showed Harper's ruling Conservative Party of Canada leading with between 33 and 35 percent. It's enough to deliver another minority government, but a drop in support compared with recent weeks and far short of the 40 percent needed to form a majority.
In the first election in an industrialized nation since the market meltdown this month, Canada may test how the fate of politicians worldwide could depend on their response to the crisis. Additionally, Harper has made a number of missteps in Canada's in-house politics that may have proved costly.
Although the issues facing the Canadian financial market and real estate values have not neared US proportions, they still weigh heavily on voters. Less than two days before the election, one-third of Canadian voters were undecided.
"I think the most important thing is how we are going to earn our bread as a nation," says Bryan Bertie, a semiretired, transportation economist in Toronto. "Quite frankly, I think for many people, if we decide to vote at all, we'll be voting for the best of a bad lot."
It was a week of wild swings in the polls, as the Tories lost their lead, apparently sideswiped by the collapse of several US financial icons, with questions swirling as to whether Harper was doing enough to stem the fallout in Canada from the turmoil.
---