Russia-Georgia peace talks delayed
The first direct talks since the August war were postponed until Nov. 18 due to a dispute over the role of delegates from the breakaway regions.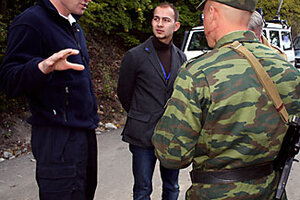 Dan Catchpole/The Christian Science Monitor
At his checkpoint along the road from Tbilisi to Akhalgori in South Ossetia, Russian Senior Lt. Boris Federov has orders to search cars and check passengers' papers. He waves most locals through, but when an SUV full of European Union civilian monitors arrives, he politely tells them they can't enter.
Lieutenant Federov chuckles as he watches the EU monitors awkwardly turn around on the narrow road.
Russian forces were supposed to leave South Ossetia by Oct. 10, and the checkpoint Federov commands was slated to be one of the key issues discussed at talks that were scheduled to begin on Wednesday in Geneva.
However, an EU official announced on Wednesday afternoon that the talks were being delayed until Nov. 18 due to "procedural difficulties." The controversy arose over a row about how representatives from South Ossetia and Abkhazia would participate.
South Ossetia and Abkhazia delegates were allowed to sit in on working groups, but not as official representatives of their de facto governments. Russians, however, wanted delegates from the breakaway regions involved in a more official capacity. The talks came to a halt when Georgian officials objected. Russia and Nicaragua are the only countries that have recognized the regions as independent nations.
---