In Nicaragua, political dissidents targeted
A noted journalist, Oxfam, and a women's organization have become enemies of the state.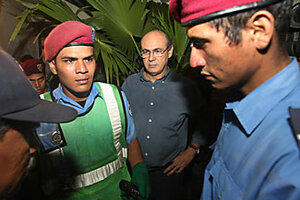 Esteban Felix/AP
Thirty years after legendary Nicaraguan newspaper publisher Pedro Joaquín Chamorro was gunned down in the streets of Managua, he's seen as a martyr for his relentless criticism of the ruling right-wing regime.
Today his son, Carlos Fernando Chamorro, lives under the new leftist regime that his father helped bring into power. Like his father, he's also become an investigative journalist who keeps a close eye on the government. Now Carlos says he's become the target of a similarly repressive regime.
Although Nicaragua's government has moved from the far right to the far left, it's remained consistently repressive, say its opponents. Political analysts say that the crackdown against Carlos and other critical voices is the latest step by Nicaraguan President Daniel Ortega's government to move the country toward a totalitarian regime by limiting political and civic participation. His tightening control over other state institutions has resulted in an "institutional dictatorship," according to dissident leader Edmundo Jarquin from the Sandinista Renovation Movement (MRS).
"Ortega is oppressive like [the former Nicaraguan dictator, Anastasio] Somoza, yet with a totalitarian vision that even Somoza didn't have," says Mr. Jarquin, whose party was recently banned from participating in the November municipal elections by the Ortega-controlled Supreme Electoral Council.
The country's main business chambers have also raised serious concerns about the direction of the country.
---