Crisis spares Russia's 'average Joe'
But the 25 richest Russians listed by Forbes have lost a combined $230 billion – a possible opportunity for the Kremlin to bolster conservative business allies.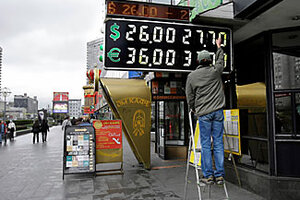 alexander zemlianichenko/ap
While many Americans are watching as their pensions crash with the markets, across Russia it's a different story. Though their stock market crash has been longer and deeper than in almost any other country, most Russians remain relatively unaffected. Meanwhile, Russia's wealthiest man, aluminum king Oleg Deripaska, has reportedly lost $16 billion over the past month.
As Russia's economy struggles under the weight of the global economic crisis, the effects on the country vary drastically among different segments of society. While Russian industrial barons are falling like kingpins, the government has maintained a budget surplus thanks to oil revenues and sovereign debts paid off by former President Vladimir Putin. Additionally, the general population has also been largely protected due to outmoded financial practices and social beliefs that kept pensions separate from the stock market. The varied effects of the market crisis are likely to alter the underpinnings of Russian society, say many Russian economic analysts.
"The Russian economy will survive this crisis, but will emerge greatly changed," says Olga Kryshtanovskaya, director of the independent Institute of Applied Politics.
Plunging oil prices, fallout from Russia's August war with Georgia, and ongoing uncertainties about the Kremlin's intentions toward private business have taken a toll on the Russian markets. Since their peak last May, Moscow's two key stock indexes have lost over two-thirds of their value, while big Russian corporations are sagging under total debts reported at over half a trillion dollars, mostly owed to international financial institutions.
---