Afghans to Karzai: You failed us.
Perceived as ineffective and corrupt, the Afghan president faces an uphill battle to reelection.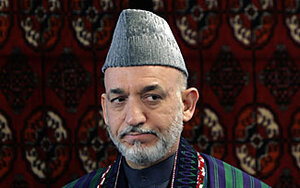 Musadeq Sadeq/AP
Hajji Mohammed Aman sits in the half-light of his west Kabul real estate office and makes a demand of his president.
"When you decide to do something, you have to do it, even if it costs you your life," he says, firmly but without bluster.
The comment hints at why the country that once chose President Hamid Karzai to lead it into a new, democratic future is now turning against him. Both at home and abroad, Mr. Karzai is facing mounting criticism that he has lacked the courage to stop the government's descent into corruption and ineffectiveness.
Karzai's international allies are increasingly unwilling to accept inaction, and with presidential elections a year away, the man who once had an 83 percent approval rating now finds himself politically isolated and needing to resuscitate his image.
"Things are out of his control now," says Farooq Mirranay, a member of parliament who supported Karzai in the 2004 elections and remains a part of the Karzai's legislative bloc.
As the West begins to pay more attention to the worsening state of law and order in Afghanistan, pressure on Karzai is growing. His decision on Oct. 11 to reshuffle his cabinet has widely been seen as an effort to placate international allies demanding progress against corruption.
"It's taken him two years to do it," says Ahmed Rashid, author of "Descent into Chaos," a book about US efforts to rebuild Afghanistan.
---