OPEC to cut oil production by 5 percent
In an emergency meeting Friday, OPEC tries to prop up oil prices as a looming global recession dampens demand.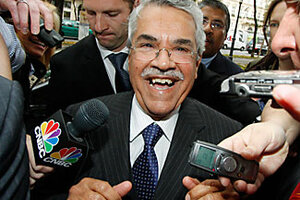 Ronald Zak/AP
The Organization of Petroleum Exporting Countries (OPEC) Friday announced a slash in oil production of about 5 percent, or 1.5 million barrels a day, in order to shore up rapidly plummeting prices in a grim global economic environment.
Eleven members of the 13-nation oil cartel, meeting in an emergency session at OPEC's headquarters in Vienna, decided to reduce their current collective production of 28.8 million barrels per day effective Nov. 1.
The move came as stock markets around the world tumbled downward. It is unclear by how much, if any, the projected decrease in oil supplies will affect petroleum prices amid a looming global recession likely to severely dampen demand.
OPEC is gambling that the higher prices it is seeking to create won't accelerate that drop-off in demand.
In a statement released at the close of today's meeting, which was moved up from its original date of Nov. 18, OPEC reported that "the financial crisis is already having a noticeable impact on the world economy, dampening the demand for energy, in general, and oil in particular." The association added that it was responding not only to the drop-off in demand, but also to "a dramatic collapse – unprecedented in speed and magnitude" of oil prices. The lower prices, it added, "may put at jeopardy many existing oil projects and lead to the cancellation or delay of others."
In the US, the world's largest oil consumer, demand for petroleum products in the past month averaged 18.6 million barrels a day, down 8.9 percent from the same period last year, according to the US Department of Energy.
In announcing today's cut, OPEC President and Algerian Oil Minister Chakib Khelil said member countries had no choice but to decrease production.
---