In Colombia, Army acknowledges civilian killings
The head of Colombia's Army resigned Tuesday after 20 top military officials were fired.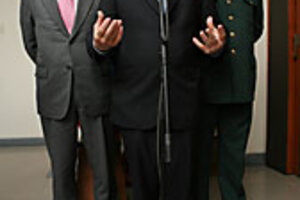 William Fernando Martinez/AP
With the death of three senior Colombian rebel commanders, the bloodless rescue of 14 top hostages, and the seizure of thousands of guerrilla computer files, this should have been a triumphant year for Colombia's military.
The Army's successes, however, have been muted by a macabre revelation that the Colombian military reportedly killed civilians to inflate their rebel body count in an effort to appear more successful.
Although nongovernment organizations (NGOs) have tracked the practice for years, many in Colombia are just now waking up to news about the systematic killings. As Colombian government officials act to purge military officers implicated in the killings and create a monitoring program, the padded body counts have put the military's methods under close scrutiny.
This week, Colombian officials began holding military officials accountable for the slayings. After Colombian President Álvaro Uribe summarily fired 20 top officers, including three generals and 11 colonels, Gen. Mario Montoya, head of the Army, resigned on Tuesday. The terminations follow an internal probe into the disappearance of at least 11 civilians from a Bogotá suburb, whose bodies were later found halfway across the country and reported as combat casualties.
---