Hip, new Baghdad hangout is a byproduct of war
Akkad Street is a neighborhood's response to suicide bombers hitting the main shopping market.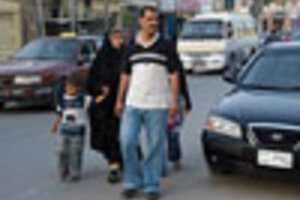 Tom Peter/The Christian Science Monitor
A group of four teenage boys sharing two mopeds buzz up and down Baghdad's trendy Akkad Street and covertly gawk at passing women.
Lined with hip restaurants, coffeehouses, and clothing stores – including the latest in Western and Islamic fashions – it is the place to be seen.
It's now the Iraqi teenagers' equivalent of the American mall.
Before the invasion, Akkad was a residential street without so much as a corner store. But along with a handful of other new commercial districts throughout Baghdad, Akkad Street was born of necessity.
When suicide bombers began targeting major markets, residents no longer felt safe leaving their neighborhoods. Local entrepreneurs responded by converting the lower levels of their houses into bakeries and barber shops, giving their neighbors a safer alternative.
Today, even though violence has fallen to a four-year low in Iraq, many residents and Iraq experts agree that such changes to Baghdad's commercial and cultural topography will be permanent.
"The sectarian violence changed the map of Baghdad's commercial centers," says Abbas al-Tememi, an economics professor at Baghdad University. "The problems in the big markets created new, smaller markets, but these markets have not replaced the main ones."
Ahmed Sadiq, who works in an upscale clothing store on Akkad Street, says that "the worst situation imaginable pushed people to start this street."
Like many of the other residents of Khadimiya, Mr. Sadiq is a displaced Shiite from the south of Baghdad. But he's not your typical down-and-out refugee; he comes from a relatively affluent family.
Even before displaced families began arriving in the neighborhood at the peak of sectarian fighting in 2005, Khadimiya was a relatively upscale neighborhood. But when folks like Sadiq began arriving, they brought investment capital and healthy consumer spending habits.
---