For Bulgarian nurses, freedom isn't easy
A year after being released from prison in Libya, where courts had accused them infecting children with HIV, five nurses face tough living at home.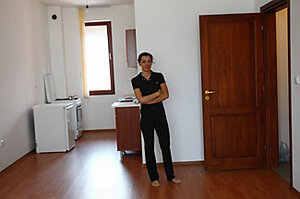 Eric Dessons/jdd/ Abacapress.com/Newscom
For eight years, five Bulgarian nurses were locked in a Libyan prison, accused of intentionally infecting 426 Libyan children with HIV, and dreaming of the day they would get released and expose the charges as fraudulent.
But that day came and went more than a year ago, and now the nurses find themselves facing an increasingly stark reality as they adjust to life back in Bulgaria.
While they're working with the producers of the Oscar-nominated "Hotel Rwanda" to make a film based on their story, the real life version has had anything but a Hollywood ending.
Although prominent Libyan authorities admitted that the nurses were tortured into confessing, some Bulgarians still believe that the nurses are guilty. Others view them as opportunistic, and trying to exploit their situation for unreasonable compensation. In reality, many of the nurses now say they're struggling to make ends meet.
"I'm very disappointed in humankind," says Valentina Siropulo, one of the nurses who has returned to the hospital she worked in before traveling to Libya. "Not only because of the way we were treated in Libya, but also the extreme negative reactions here in Bulgaria."
From the outset of their detainment, Bulgarian officials did not portray the nurses' arrest as a human rights violation, even as scores of Western medical professionals presented evidence that the Libyan hospital system was to blame. Instead, Bulgarian officials treated the nurses as citizens who had committed a crime abroad and should be extradited, and tried domestically.
---