India leads fight against Somali pirates
An Indian warship sank a Somali pirate 'mother ship.' At least 91 ships have been hijacked this year off the coast of Somalia.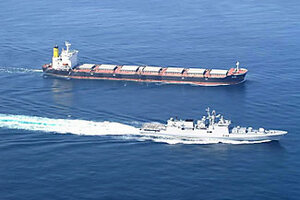 Indian Navy/AP
After Somali pirates shook the international maritime community on Tuesday, hijacking a Saudi supertanker with more than $100 million worth of crude oil, the Indian Navy has struck back.
An Indian warship came under attack on Wednesday from a suspected pirate "mother ship," but managed to destroy the pirate ship, sending three speedboats packed with pirates fleeing for safety.
Meanwhile, the INS Tabar, a Russian-made, high-tech Indian warship, managed to thwart the attempted hijacking of an Indian cargo ship off the coast of Somalia.
As the global community copes with the mounting pirate threat, India has taken a leading role in the fight. With nearly $100 billion of cargo passing through the pirate-laden Gulf of Aden each month, India cannot afford to let the threat go unchecked. It also puts the emerging Indian Navy front and center on the world stage.
"This was a commendable action against the Somali pirates," says Uday Bhaskar, an Indian defense expert. "The pirates have become audacious lately, venturing out into deep waters to attack foreign ships. This action by the Indian Navy will send out a strong message that they cannot get away with this."
Hijackings off the coast of Somalia accounted for a third of global piracy incidents this year, reports the International Maritime Board. Since January, at least 91 ships have been hijacked in the Gulf of Aden, a 1 million-square-mile waterway between Somalia and Yemen.
---