Palestinian security gets a feminine touch
By adding females to the police force, Palestinian officials hope to improve the image of their security forces.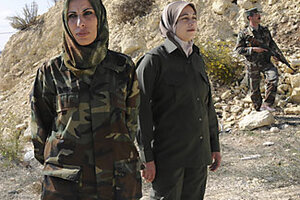 Debbie Hill/Special to the Christian Science Monitor
Palestinian police surround the house of suspected militants and knock, demanding to be let in. Normally, they'd kick in the door if it didn't open immediately, but today they have the thing that every home is said to need: a woman's touch.
As part of a new Palestinian Authority (PA) security initiative, this unit, like every Hebron unit that searches houses, has two female officers to bring a gentler side to long-stigmatized house raids.
Using female police officers in the field is part of the latest PA effort to help President Mahmoud Abbas better control the West Bank and Hamas. Although there's also been an overall expansion of the police force, security officials see women as key to a new, hearts-and-minds strategy.
"In the past, we never had women in the police [force], except maybe some working in the office," says Brig. Gen. Samaeeh el-Safy, who is the head of the new security campaign in the Hebron area.
He says that having women play a pivotal role in security is just one of many changes in approach since forces have received training in the past half-year by international experts, both in the West Bank and in Jordan.
---