Dimming hope for European auto giants
The industry seeks help, but analysts wonder if falling demand can be reversed before makers resort to deep job cuts.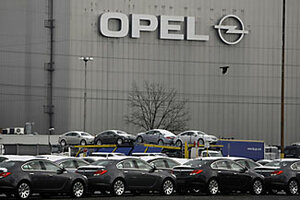 Alex Grimm/Reuters
Mlada Boleslav, Czech Republic
Early this year, Skoda Auto told the 22,000 employees in its flagship production factory here that they'd have to begin working Saturdays if the company was to meet the seemingly boundless demand for its vehicles in Western Europe and Asia.
But the global financial crisis has since dealt a turnaround. Now, the company is preparing to send its entire workforce home for a week next month for a temporary halt in production. December will be the third straight month of forced vacations – a downtime that translates to 31,000 fewer Skoda cars rolling off assembly lines and significantly less pay for employees.
"It's not easy to explain to workers why we have to do this," says Jaroslav Cerny, of Skoda. "Now, we have to say not only can't you work on Saturdays, but now you can't work on weekdays, either."
Like their counterparts in North America, Europe's carmakers are battling a slumping economy and plunges in consumer demand. To combat that, the European Union this week is expected to unveil a stimulus package for struggling industries, including an anticipated $50 billion for the automotive sector in the form of credit from the European Investment Bank.
Fears are mounting that European carmakers will follow the lead of General Motors, which last Friday pledged to cut production at five North American plants, among other cost-saving measures, as it tries to convince a skeptical Congress to agree to a $25 billion bailout.
---