Signs of thaw in bitter South Asian dispute
Trade reopens after 60 years along Kashmir's 'Berlin Wall.'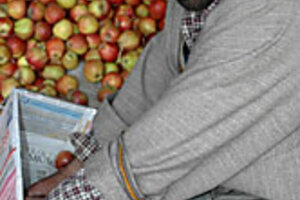 Mark sappenfield
Baramullah, Indian Kashmir
Ghulam Rasul Butt believes the solution to Kashmir could begin with 1,038 boxes of apples.
That's what he sent to Muzaffarabad in Pakistani Kashmir on Oct. 21, marking the historic reopening of trade between the two halves of Kashmir – split between India and Pakistan – for the first time since 1947.
Trade, Mr. Butt says, could succeed where UN resolutions and three wars have failed. From cement to natural gas, India and Pakistan are turning to commerce to help forge common ground. The trade is largely symbolic, but it represents the first seeds of trust between the nuclear-armed enemies, whose squabbles have continually unsettled the region – including Afghanistan.
Kashmir trade "will help end the prolonged animosity between the two countries," says Butt, the president of the Kashmir Valley Fruit Growers Association.
Renewed trade across Kashmir's so-called Line of Control (LoC) – the 450-mile ribbon of Himalayan frontier that splits Kashmir and is lined on either side by nearly 1 million troops – is the most dramatic example of a gradual strengthening of economic ties between India and Pakistan. It is part of a broader trend.
Pakistani President Asif Zardari's government has steadily increased the number of items that India can export to Pakistan, adding 136 items in July – from diesel fuel to mining equipment – bringing the total to 1,938.
---