Israel bans press in the Gaza Strip
For nearly three weeks Israel has blocked access to the Gaza Strip. Foreign journalists are challenging the Gaza ban in court, calling it a 'blow' to freedom of the press.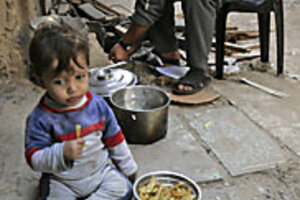 Hatem Moussa/AP
For more than 40 years the Gaza Strip has played a key role in the Arab-Israeli conflict, making it a place of keen interest to journalists.
But for nearly three weeks now, Israel has blocked media access to the 25-mile-long coastal territory in what journalists are calling a "mortal blow against freedom of the press."
On Monday, the Foreign Press Association (FPA) in Israel filed a petition to the Supreme Court asking it to rule on the issue, essentially forcing an overturn of the ban.
"We believe the Israeli government has an obligation to keep the Gaza border open to international journalists," says Steven Gutkin, the FPA Chairman and Jerusalem bureau chief of Associated Press. "The foreign media serve as the world's window into Gaza and it's essential that we be allowed in."
The border has been closed in the past during periods of heightened tensions and violence, but never for more than a few days at a time.
"It's been open throughout very difficult periods, and it's been closed during periods of heavy fighting. But it's been open during more tense periods than this one, and we've received no plausible explanation of why this period is any different," says Mr. Gutkin.
Israeli officials have given no specific reason why it has been closed for such a long period of time, except to indicate that opening the border – the only legal route into Gaza – would endanger the personnel who work at the heavily guarded Erez crossing.
---