Airport clash grounds Thailand
The tug of war is stranding tourists and raising fears of escalating violence. The military denies rumors of an imminent coup, while the king remains silent.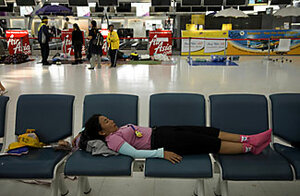 Andy Nelson/The Christian Science Monitor
A week of escalating resistance by anti-government protesters has put the Thai capital in a stranglehold that its flailing civilian government seems unable to break. The stalemate has raised fears of widespread unrest in a war of attrition between a populist ruling party and a royalist protest movement in Bangkok that is determined to rewrite the political playbook.
Over the weekend, protesters equipped with iron bars, shields, and slingshots rebuffed tentative efforts by riot police to cordon off the international airport seized last Wednesday. Impassioned leaders have urged their followers to be prepared to resist an armed assault. A domestic airport is also being held by the People's Alliance for Democracy, which wants Prime Minister Somchai Wongsawat and his cabinet to resign over allegations of corruption and treason.
The five-day closure of the two airports has stranded tens of thousands of foreign tourists and paralyzed trade, with losses estimated at billions of dollars. Some tourists are being evacuated from a military airbase outside the capital. Thai tourism officials predict a huge short-term slump in foreign visitors that would trigger massive job losses in an already weakened economy.
On Thursday, Mr. Somchai declared a state of emergency at the two airports and authorized Thai security forces to remove the protesters. A new police chief was installed Friday. But the powerful military, which seized power two years ago during a similar crisis, has refused to take part. Army chief General Anuphong Paochinda has called on Somchai to dissolve parliament and hold elections, while denying rumors of an imminent coup.
---