Time ticking away for Happy Hour
British pubs face last call for cheap alcohol sales.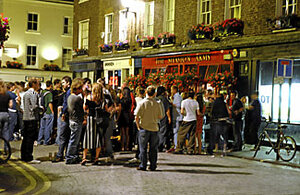 Alfredo Sosa/Staff/file
Stroll through the center of this (or any other English) town in the latter part of the afternoon, and the options for cheap alcoholic refreshment are plentiful.
On one corner, a pub called Acorn 20 is offering deep discounts on wines and beer until 8 p.m. Nearby, The Slug and Lettuce entices customers with cheap pitchers of cocktails.
Happy hour is in full swing – only these days, given the length of time it endures, it should probably be called happy hours.
But for how much longer? With police complaining about the insidious connection between alcohol, crime, and violence, and the government concerned about the rising incidence of "binge drinking," particularly among British youths, government ministers are poised to crack down on the practice of luring customers with deeply discounted alcohol.
"We're conscious that alcohol is a factor in half of all violent crime, and it's right that people are concerned," says one government official. "The measures will be about tackling a minority who ruin it for everyone else."
A new mandatory code of conduct, proposed in the government's new legislative program in the traditional Queen's Speech Wednesday, will take aim at a colorful array of inventive but questionable marketing gimmicks.
With pub owners devising ever-more ingenious ways to secure customers, happy hour no longer just means 60 minutes of cheap drinks.
Ministers are particularly keen to ban notions like "all you can drink for a tenner [10 pounds, or $15]," free drinks for women, and free drinks until the first goal is scored in a soccer match (an expensive giveaway if it ends in a 0-0 tie).
Jacqui Smith, the British home secretary, summed it up recently when she turned up her nose up at scenes that regularly mar British weekend cityscapes, "I don't think any of us want to have our city centers with people lying on the pavements and being sick."
---