Vlad TV: Putin hits airwaves to reassure Russians
No longer president, he still commands center stage and a high level of trust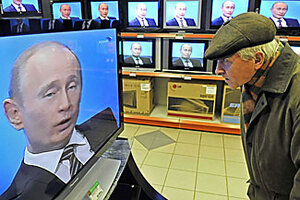 Mikhail Mordasov/REUTERS
Russian Prime Minister Vladimir Putin returned to his favorite method of interfacing with the public Thursday, taking questions for more than three hours via live television hookups around the country, on the Internet, and from a carefully screened studio audience.
It was the sixth time the former Kremlin leader has held such a marathon press conference, but the first time any prime minister – an appointed technocrat who has been expected to take a distant back seat to the president – has been handed the media catbird seat. His legendary command of detail was on display as he rattled off answers to 72 queries about matters as diverse as the economic crisis, US-Russia ties, military reform, mothers' allowances, his relations with President Dmitry Medvedev, and last summer's war with Georgia. But the appearance, broadcast on the main state TV channel, seemed to confirm the widespread belief that Mr. Putin remains Russia's real boss and not Mr. Medvedev, who is on a visit to India.
"The Russian public perceives Putin as the leader and senior president, not as just a prime minister," says Fyodor Lukyanov, editor of Russia in Global Affairs, a leading Moscow foreign policy journal. "Opinion polls show that people trust Putin, whom they see as a symbol of power. I don't think the public trusts Medvedev; they see him as too young, too inexperienced."
---