Russians trudge ahead as economy tanks once again
With oil wealth evaporating and international investments fleeing following the war with Georgia, Russia braces for more hard times.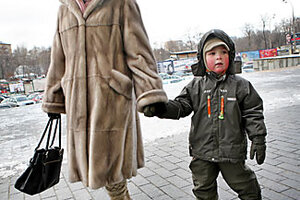 Melanie stetson freeman/staff/file
As financial turmoil spreads and storm clouds gather over the entire world, many middle-aged Russians are feeling a familiar chill. Unlike most Americans, any Russian over 40 has vivid memories of two previous national economic crashes that brought personal ruin to millions of people.
Recent conversations with Russians offer glimpses of a middle class that's worried, but not yet afraid. They say their past brushes with disaster put iron into their souls and changed their values.
"I think I can overcome anything; I've already been through every stage of hell," says Mikhail Sadskykh, a successful Moscow massage therapist who, like many of his compatriots, has been through three different professions in as many decades. "I'm not going to be stressed anymore over anything. I've changed. The most important thing for me now is my family, who stood by me through the hardest times. We'll get through whatever may be coming."
As the US was pulling out of a mild recession in the early '90s, post-Soviet Russia was plunging into a decade-long depression that saw the country's gross domestic product slump by over half.
It began in 1992 with a hurricane of hyperinflation – in the course of a year 1,000 rubles went from paying for a two-week vacation on the Black Sea to barely covering the cost of a candy bar. The aftermath of the breakup of the USSR also brought widespread industrial closures, and a nearly total collapse of the social safety net.
---