In between the fighting, soldiers also battle boredom
Technology offers troops in Afghanistan a respite, but some wonder if the tether is too short.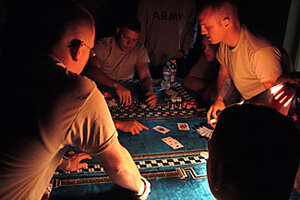 danna harman
In decades past, going to war meant being out of touch with loved ones for months, even years. Today, soldiers can remain in almost constant contact with thoseat home.
It's the preferred method of distraction for many troops serving long deployments here in Afghanistan – sometimes to their detriment.
Each American base, big or small, has some version of the Morale Welfare Room, in which troops can surf the Web and check e-mail free of charge, make cheap phone calls back home, and pick up one of the pamphlets with titles such as "How to avoid arguments."
"Do NOT let him take the red car!" a furious sergeant – who seems to have given the pamphlets a pass – insists into the receiver to his wife in Texas. Yelling would get him thrown out of the room, so he grits his teeth and tries again. Their teenage son wants to pick up his girlfriend at the airport, and Dad, nearly 8,000 miles distant, is having none of it.
A few booths away, a staff sergeant chats with his wife, who waves into the video camera installed in their Florida home. "It's a lifeline for us," notes Sgt. T.J. Wadington.
But such constant communication, warns Capt. George Tyger, a chaplain at Kalagush Forward Operating Base, in Nuristan, can be complicated. "A lot of these guys are experiencing anger, loneliness, and even depression, but are young and can't express themselves well," he says. "Talking every day can be tough." Moreover, he points out, micromanaging life at home from such a distance "is not usually helpful to the spouse at home, and also diverts the attention of the soldiers, which is often dangerous."
Patrick Dean, an Air Force psychiatrist based in Jalalabad, agrees. "It's a double-edged sword: If you have distance, you can put your mind totally in the game and focus. But on other hand, being in touch with loved ones is a way to get support and validation."
---