A sanctuary for dissent in Greece?
Greek law keeps police away from universities, but some fear the immunity clause meant to protect free speech is now being used to harbor bastions of violence.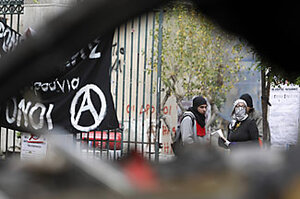 Oleg Popov
Masked men wielding clubs guard the entrance to the Athens Polytechnic University, keeping watch over the graffiti-covered walls on campus. Nearby streets are barricaded with the carcasses of burnt cars, and a huge black banner proclaims "MURDERERS" – the rallying cry that has brought Greece's youths to the streets. Inside, piles of empty gas canisters testify to the scores of Molotov cocktails assembled there recently For more than a week, Athenian streets have been a battleground between police and protesters, whose anger was sparked by the fatal shooting of a 15-year-old boy by a policeman. Protected by Greece's Constitution from police interference, the Polytechnic has become the headquarters of the protest movement – and a haven for those wreaking havoc on the city's streets.
As Greeks try to make sense of the chaos – and prepare for another week of protests, ranging from sit-ins to nationwide roadblocks – many here are beginning to ask whether the asylum law is protecting free speech or simply harboring criminals.
"The university asylum is for the freedom of movement of ideas, but not of commitment of criminal actions," says George Bergeles, a professor at the Polytechnic who is sympathetic to the students' complaints, but not their harsh tactics. "The law about university asylum I believe is a fantastic achievement of the university movement, but we should protect it by not allowing criminal offenses to happen inside."
The Polytechnic holds historic importance for Greeks. In November 1973, students barricaded themselves inside in rebellion against the country's military junta, which had been in power since 1967. Fearful that the revolt would spread, on Nov. 17 the national police moved in with tanks, killing a still-disputed number of protesters.
---