Grievances rise among young Europeans
Job prospects and dreams fade with crisis.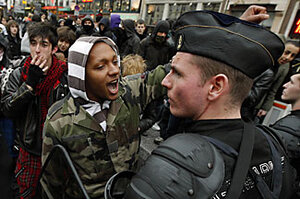 Benoit Tessier/Reuters
Two years ago it was called the "1,000 euro generation" – Europeans under age 30 who bounced around in short-term jobs that paid 1,000 euros a month.
Now, even that social label has been devalued. Today they are called the "700 euro generation" – young people entering what amounts to a huge, temporary workforce who can't afford the life and security their parents took for granted.
Recession in Europe may hit hardest among the young – causing increasing worry among politicians about long-term effects. Unemployment rates are 20 percent to 30 percent for youth in Spain, Italy, France, and Greece – adding to an already tense situation. The plight of a 700 euro generation is a central problem on a continent where jobs are even more central to stability than in the more fluid US workforce, analysts say.
As European politicians watched young people in Athens shattering windows and protesting this month, many wondered if it could also happen elsewhere. So far, the temperature has not reached a boiling point – despite small protests in Barcelona, Spain; Madrid; Rome; and Bourdeaux, France.
---
Follow Stories Like This
Get the Monitor stories you care about delivered to your inbox.