Canadians pull together under a blanket of snow
Rare coast-to-coast white Christmas refreshes sense of unity.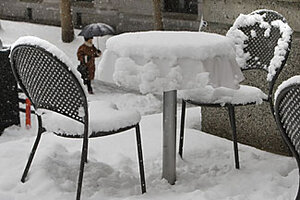 Andy Clark/reuters
After a contentious fall election, Canada's age-old divisions seemed even more obvious: western provinces resenting the east, those in the Maritimes feeling orphaned, and many from Quebec longing to break away entirely from the national tethers.
This week, though, our polarization has gone from political to literal as all of us have been snowed in.
For the first time in four decades – from Atlantic to Pacific, from Windsor just south of Detroit to Ellesmere Island, just south of the polar icecap – all of Canada is experiencing a white Christmas.
The coast-to-coast snow has brought with it a renewed sense of national unity. Canadians might be inconvenienced and even annoyed, but we have, if nothing else, a frozen bond, a sense of collective misery. "The snow brings us together," Toronto resident George Lang explains, while standing next to a snowbank outside his home. "Maybe you could say it even makes us better people."
Mr. Lang was having the knee-deep snow cleared from his driveway by a younger neighbor. "It's like a beautiful Christmas gift," Lang says. "When you're living in a big city, you rarely even talk to the people on your street, but someone always comes to help when my driveway needs to be shoveled."
---