Irish pork recovering slowly after feed scare
Organic producers failed to escape industrial farm problems, despite efforts.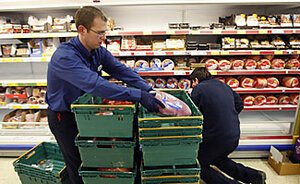 Peter Morrison/ap
Hams returned to racks and shelves in time for the traditional Christmas dinner following a recall of all pork products, announced by the Food Safety Authority of Ireland on Dec. 6. The decision had stripped butchers and supermarkets bare when dioxins – 80 to 200 times the permitted level – were found in samples of Irish pork traced to tainted animal feed.
Although business is resuming, the recall has dented consumer confidence in the pork sector, which is centered on large-scale producers. As the government moved to protect these producers and their export market, those hit hardest were the artisan operators, whose animals were never in contact with the contaminated feed.
In spite of their commitment to "traceable" organic practices, these small producers fear their farms will continue to suffer from the aftershocks of the crisis.
"When the contamination was discovered, the response should have been 'How do we contain it?'" says John McKenna, coauthor of the Bridgestone Guides to Irish Food. "From the beginning there should have been an exemption for anyone using organic pork or anyone who could prove their traceability. The recall of all products was solely in the interests of the big companies responsible for Ireland's food exports."
---