Malta: Africans' way station to the EU
Island nation struggles with a flood of illegal migrants bound for Europe.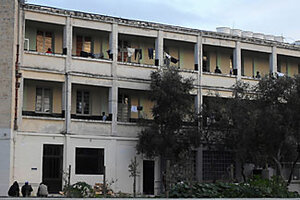 Aidan Jones
Shaqaale Hassan handed $1,000 to people traffickers, confident it would secure his passage from Libya to Italy, and the European Union's sprawling labor market.
Instead, after three days adrift in the Mediterranean Sea, the small speed boat carrying the 23-year-old Somali and two dozen other illegal migrants was intercepted by a European Union patrol and the passengers were taken to a detention center on the nearby island of Malta – the EU's smallest member state.
Mr. Hassan says that he fled Mogadishu, Somalia, after a close friend was killed in cross-fire between militias. But after five months on Malta he says his prospects are limited. "The Maltese people don't want us. There's no work here and when we find a job we are paid nothing," he says. "In Somalia you live or you die, ... Here I am not dying, but I am not alive. I want to go to Italy."
He is among nearly 2,500 Africans – the majority from Somalia, Eritrea, Ethiopia, and Sudan – to arrive this year. At least 550 other migrants fleeing war and poverty are reported to have died during the journey, although the actual toll is likely to be much higher.
By virtue of its geography, this 112-square-mile rock is now on the front line of the EU's battle to stem illegal immigration. Since 2002, the Maltese government has processed 11,500 refugees and economic migrants.
---