Will a new generation bring fresh justice to Bulgaria?
'We need a moral cleansing of the system,' says jurist Nelly Koutzkova.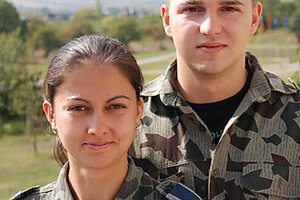 Michael J. Jordan
Many residents of the European Union's most corrupt and violent member state say that apart from the uniforms there's little difference between Bulgaria's cops and mobsters. But over at the Simeonovo Police Academy, on the sprawling eastern edge of the capital, cadets Elena Kolcheva and Danail Velichkov are champing at the bit to get the bad guys.
"My family and friends don't trust the police to be effective," says Ms. Kolcheva, who's ranked second in her class and hopes to someday investigate murders. "But now they see the younger generation is motivated to change the system.
"Brussels bemoans that as many as 150 assassinations over recent years have produced no prosecutions in Bulgaria. Locals blame a police and court system infested with bribery. A common joke in the business community here is, "we don't invest in lawyers, we invest in judges."
But there's also a glimmer of hope that the next generation of police and judges will take a more professional approach to justice. Cadet Kolcheva says a major corruption conviction would embolden her and her fellow cadets. This view is shared by Nelly Koutzkova, former president of the Bulgarian Judges Association.
---