Corruption in Bulgaria tests EU expansion
Frustrations mount over Bulgaria – the most violent, corrupt, and poorest of EU members. Aid is being withheld as reform promises are made (and broken). Can it be fixed?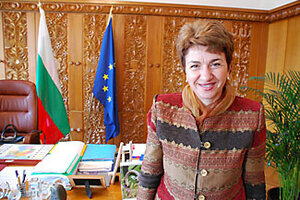 Michael J. jordan
This spring, after Bulgaria recalled Meglena Plugchieva from her ambassadorship in Berlin to clean up widespread corruption and misuse of European Union funds, she warned fellow ministers they must act to prevent the loss of massive funding from Brussels.
But Ms. Plugchieva also vowed to stand up to Western criticism that singles out her nation's ills. "Bulgaria is not the cradle of corruption," she said. "Germany also has its corruption-related scandals."
The "double standard" defense, though, wasn't enough to deter a stinging financial slap delivered last month by a European Commission angry after millions of euros in development assistance had been siphoned off and a string of high-profile corruption and murder investigations resulted in no convictions.
Bulgaria's case was putting the credibility of EU enlargement at stake: Brussels needed to send a message to those arguing against further expansion and to candidates banging on the door, including Croatia, Serbia, Albania, and Turkey. Just last month, EU officials warned Croatia that its failure to crack down on organized crime and corruption jeopardizes its chance to join the EU next year.
---