Great expectations for Obama abroad
Team Obama is more pragmatic and less ideological than its predecessors, say diplomats and campaign advisers. Afghanistan will be a foreign-policy priority.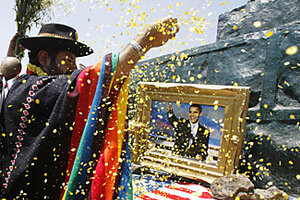 Enrique Castro-Mendivil /Reuters
The Promise of Change was central to Barack Obama's presidential election. It also played well abroad to a global populace that was largely critical of US policy in Iraq and its handling of suspected terrorists, according to polls. Expectations for a new approach are high. In Africa, President-Elect Obama is seen as their man. In Europe and elsewhere, he's a new symbol of American ideals of equality – where even a black man who went to school in Indonesia can reach the pinnacle of power. But are such expectations unrealistic? How will Obama capitalize on the goodwill that now exists?
Can Obama restore US prestige abroad?
In many places, Obama's election has already reversed a deep pessimism, according to foreign-policy analysts, ambassadors, and intellectuals interviewed. Some American diplomats say that, despite problems that would be serious without a global financial crisis, they are optimistic, guardedly, for the first time in years. Obama does not have a long track record of foreign policy experience. But he represents an opening abroad for something new. The intelligence with which the Obama team organized the campaign and outlasted formidable opponents is not lost on foreign elites. Europeans say Obama "gets" the globalized world, and his biography gives him some unique insights.
---
Follow Stories Like This
Get the Monitor stories you care about delivered to your inbox.