Crisis chills Europe's ties to Russia
A cold, divided, and annoyed Europe struggles to find a way to prevent Russia from turning down the heat. Eastern Europe, meanwhile, continues to shiver.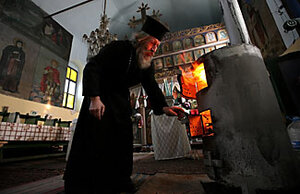 Petar Petrov/AP
With parts of Eastern Europe now going without heat because of the lingering natural gas conflict between Russia and Ukraine, officials in Europe say they must do more to prevent Russia from having so much control over the continent's thermostat.
In Bulgaria, which has relied on Russia for almost all its gas, the crisis has closed dozens of schools and factories. Thousands of residents in key cities such as Varna and Burgas are without heat and cooking gas, according to Bulgarian media. The crisis caused a run on electrical heaters in shops around the country, but overuse of the devices triggered a short blackout in the capital, Sofia, on Wednesday.
"I don't know why the Russians are doing this to us. We were friends," says Dana Ivanova, a Sofia news vendor. Ms. Ivanova adds that she no longer removes her coat after coming home from working on frigid city streets.
---