Stimulus goes global. Will it be enough?
The key is how well nations manage the spending.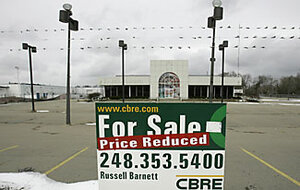 Carlos Osorio/AP
Think 2008 was rough? Most indications are that 2009 will be even rougher for the global economy.
For the first time since World War II, the world's advanced nations – representing 80 percent of global output – will all see their economies contract simultaneously. Smaller economies will see slower growth and even dynamos like China, whose economy is still expected to grow by 8.5 percent, worry about social unrest from the slowdown.
And that's the optimistic scenario, painted by the International Monetary Fund and others. While the IMF back in November forecast that the US economy would contract by 0.7 percent while Japan's and the European Union's would fall by 0.2 percent, pessimists see larger declines, especially for the US.
As a practical matter, one of the only certainties for the year ahead is that government deficits will balloon as nations try to stimulate their economies and restart the cycle of growth.
How deeply the global recession cuts, analysts say, will be a function of how well they manage this spending.
If mismanaged and if the direst economic predictions are borne out, a storm that began on Wall Street could have profound political and social effects, particularly in the most vulnerable economies.
What are the ways out of the current crisis?
In one word, "Keynesianism" – the idea set out by economist John Maynard Keynes in the 1930s that governments lower interest rates (which has already happened) and increase spending (which is about to happen) to jump-start their faltering economies.
At the heart of the theory is the expectation that massive new outlays on roads, bridges, and other infrastructure will create jobs and stimulate consumer spending, cushioning the downturn at first and eventually stimulating economic growth.
---