Thais tighten ban on royal slurs
Thailand's lèse-majesté laws are already strict, but a new crackdown on insults has resulted in a spike in arrests, including that of an Australian novelist.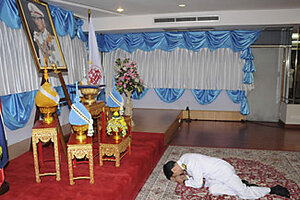 Apichart Weerawong/Pool
Three years ago, Harry Nicolaides wrote a novel that he hoped would strip away "the veneer of truth" from Thailand, where he was teaching at the time. Initially, "Verismiltitude" fell well short of its author's ambitions: Only 50 copies were self-published and few were sold. He drifted back to Australia, before returning to Thailand to write and teach.
Today, Mr. Nicolaides sits in a Bangkok jail on charges of lèse-majesté, the offense of insulting Thailand's royal family, in a brief passage in his novel about the private life of an unnamed crown prince. He intends to confess, repent, and seek a royal pardon.
"I've been demonized. I've got to play my role, to plead guilty and accept my sentence," he says.
Thailand's lèse-majesté laws are among the world's strictest, meriting jail terms of three to 15 years. Fear of the laws – as well as genuine veneration – has long drawn a veil over criticism of King Bhumibol Adulyadej, the world's longest-reigning monarch, and his family. But a bitter struggle for power that is being waged, in part, in the name of the crown is testing these taboos.
In response, Thai lawmakers and security forces have sought to tighten controls by blocking thousands of websites, arresting activists, and drafting even tougher laws. A lawmaker in the ruling Democrat Party recently proposed raising the maximum jail time for lese-majeste to 25 years. The new government is also creating a 24-hour "war room" to scour the Internet for antiroyal comment.
---