Will English soccer be slide-tackled by the economy?
Eyebrows raised over $150 million bid for AC Milan's Kaka.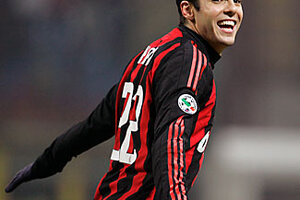 Antonio Calanni/AP
Recession, what recession?
English soccer's latest foray into the realms of financial hyperbole takes some digesting in this era of belt-tightening, retrenchment, and job losses.
One player, AC Milan's Kaka, has attracted an eye-watering bid of as much as $150 million from the Arab-funded English club Manchester City. If the Brazilian accepts the offer, he may additionally bank a tidy salary of as much as $700,000 – a week.
But don't be fooled into thinking that this is an accurate indicator of the financial health of the game. For English soccer, the richest game in the world and a giddy carousel of the world's most richly talented and richly rewarded stars, is stuttering.
Half a dozen of the top clubs are for sale. No one wants to buy, though.
Multimillionaire stars are putting pressure on balance sheets at a time when the recession is undermining revenues from sponsorship, advertising, merchandising, and corporate entertainment. Season ticket sales are likely to fall, perhaps by as much as 10 percent.
One of the game's aristocrats, Liverpool, has shelved plans to build a new stadium. At London club West Ham, meanwhile, the team's shirt sponsor went bankrupt and its Icelandic owner has suffered along with his country's fortunes.
In an era where cash is king and debt is big trouble, a junior government minister, Lord Triesman, has warned that the entire stable of English clubs was carrying loans of $4.3 billion.
"There is every element of a bubble that could burst which is currently being sustained by this belief that football is immune," says Tom Cannon, an expert in the finances of the game.
---