Europe listens cautiously to Obama agenda
Biden opens a door on Iran, but presses allies on Afghanistan.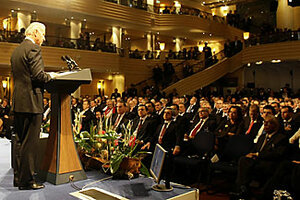 Michael Dalder/Reuters
Stressing partnership and cooperation, Vice President Joe Biden opened a new chapter in American foreign affairs at a major conference of allies in Germany, offering talks with Iran and a bid to "reboot" troubled Russian relations.
But members of the White House foreign-policy team, including national security adviser Gen. James Jones, also issued an appeal to move urgently on Afghanistan, which General Jones says is "not simply an American problem, but an international problem."
The double-edged message was received with deep appreciation – and soberness. The new US president is well-liked in Europe, but support is weak for sending combat troops to Afghanistan. The issue could be deeply divisive; but for now, the Hotel Bayerischer Hof, where the summit was held, at times felt like a diplomatic lovefest.
France is rejoining NATO, German and French relations have come out of a funk, and Russia reacted warmly to US promises to take a fresh approach to relations with Moscow – despite President Obama's intentions to continue pursuing a controversial missile shield in Eastern Europe.
---