Recession? War? Gulf developer continues massive Georgia luxury project.
The recent war, plunging crude prices, and an economic crisis haven't derailed plans for a gated community in the Caucasus.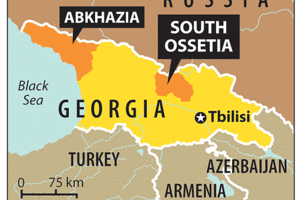 Rich Clabaugh/STAFF
Despite a war and global financial crisis, Rakeen, an Arab real estate developer in Georgia, is pressing ahead with building hundreds of luxury villas in a gated community, complete with equestrian and falconry clubs.
Since 2006, Rakeen has invested $2 billion in Georgia, which amounts to almost 20 percent of the country's prewar gross domestic product. The development company is indirectly owned by Ras al-Khaimah, one of the United Arab Emirates. Like the other emirates, Ras al-Kaimah has attempted to diversify its petroleum economy with overseas investment.
Rakeen says it has not been deterred by plunging crude oil prices or the August war between Russia and Georgia, despite the deaths of three employees and three contractors when the port city of Poti was bombed.
"Our construction work hasn't stopped," says Zaza Mikadze, Rakeen's general director in Georgia. Rakeen became sole owner of Poti's port in December; it opened a cement plant near Tbilisi in October to support construction.
The brief war with Russia in August over the breakaway region of South Ossetia hasn't stopped Rakeen's work, including two 40-story office buildings, several thousand apartments, 300 luxury villas, three five-star hotels, and a tax free industrial park at Poti, Georgia's major Black Sea port, which Rakeen owns.
---