U2 rattled by claims of tax dodging
As new 'No Line on the Horizon,' album is released, Dubliners protest band's business shift to Amsterdam.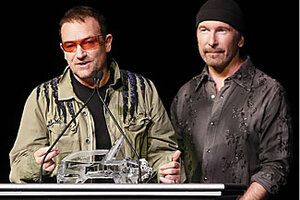 mark mainz/ap/file
The band that loves to rail against global corporate malfeasance is being criticized at home over allegations of tax dodging.
U2, whose new album, "No Line on the Horizon," is being released Tuesday in the United States, has lately found itself the focus of protests in Dublin over global tax avoidance.
The controversy stems from 2006, when the band moved its publishing company to the Netherlands to avoid a potential multi-million-euro tax bill after the Irish government capped artists' tax-free earnings at €250,000 ($315,000). By basing its operations in Amsterdam, U2 is only liable for a nominal royalty tax.
"U2 might publicly support development aid to Africa, but it is taking advantage of the same tax avoidance schemes that multinational companies use to deprive developing countries of important revenue," says Hans Zomer, director of Dóchas, an association of Irish development organizations. A report by Christian Aid, titled "Death and Taxes," estimates that developing countries lose $160 billion per year through multinational corporations' shifting of profits to avoid tax.
---