Icelanders knit crafty response to global crisis
Could old-fashioned creativity stimulate this crisis-battered island?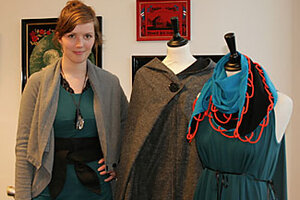 Rabeika messina
Along Laugavegur, Reykjavik's main shopping lane, one crafts store is thriving in spite of the economic crisis. Well, not in spite of it – because of it.
Yarns, threads, needles, and fabric scraps are flying off the shelves at Nalin. The shop already ran out of the Danish materials it usually carries and is now running on locally manufactured wool products.
The financial crisis has dealt Iceland a devastating blow: unemployment is soaring, the króna has collapsed, and banks have been nationalized. In January, the island nation's government buckled under the protests of citizens, who say a measure of prudence might have prevented the economy from overinflating.
Icelanders are hardly sitting idle as their country is slammed by the global financial hurricane. In cutting-edge Reykjavik, many are turning to arts and crafts, both to save money and to make it.
"Those who can't afford to buy presents are making them on their own, and those who can afford them are mostly buying handmade Icelandic items because of the import limitations," says Nalin's owner, Helga Jona.
Take Hildur Yeoman. Before the banking crisis, she could make do with her salary as a sales assistant at Trilogia, a clothing store and gallery. Nowadays, the 20-something makes frequent trips across the street to Nalin to buy supplies for her line of crocheted purses that she sells. Ms. Yeoman also sells self-illustrated greeting cards.
---