Clinton pushes NATO allies for united strategy on Afghanistan
The Secretary of State also calls for a 'fresh start' with Russia.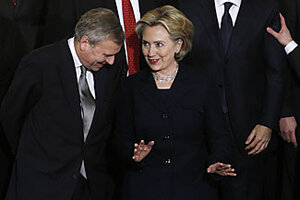 sebastien pirlet/reuters
Secretary of State Hillary Clinton called for a "fresh start" with Russia on her first visit to Europe, affirming Vice President Joe Biden's recent call to push a US "reset button" with Moscow.
America's top diplomat met NATO ministers ahead of a key April summit – one expected to solidify what is being called a more "realistic" alliance strategy on the troubled mission in Afghanistan.
Mrs. Clinton, after trips to Asia and the Middle East, is in Brussels to take the pulse of "the Western family," as a French analyst put it, and to meet allies.
Atop the list of initiatives is Russia. Clinton emphasized a White House desire to rebuild relations with Moscow after the August war in Georgia, amid a US cooling on Bush-era projects like European missile defense and rapid NATO enlargement along Russia's border. She meets Russian Foreign Minister Sergei Ivanov in Geneva Friday to restart nuclear arms control talks, and discuss Afghanistan.
---