Turkey warms to Clinton's candor
Was it TV magic or intelligent diplomacy? A month before Obama's visit, Hillary charms Turkey in a talk- show stop.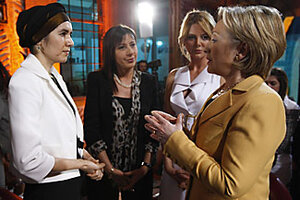 osman orsal/reuters
Stagecraft appears to have helped Secretary of State Hillary Clinton score a few points for America's battered reputation here.
In a departure from her busy agenda of traditional diplomacy, Secretary Clinton sat down for a Saturday interview on a popular television talk show, opening up on prime time about everything from how she fell in love to her challenged sense of fashion.
Asked by one of the hosts how she has dealt with life's difficulties – including much-publicized bumps in her marriage – Clinton answered: "You know, family, faith, friends are the core of my life and I don't know anybody whose life is smooth sailing."
Clinton and Turkish officials had significant issues to discuss during her one-day visit to the Turkish capital of Ankara, including the possible use of Turkish soil for the withdrawal of American troops from Iraq and her announcement that President Obama will make his own trip to Turkey in the next month.
But Clinton also had another mission: to resurrect America's shabby image in Turkey, where, according to a 2007 public opinion survey, only nine percent of the population held favorable views of the US, down from 52 percent in 2002.
The Turkish people were ready for the dose of warmth and candor offered by Clinton, says Huseyin Bagci, a professor of international relations at Ankara's Middle East Technical University.
---