Northern Ireland refuses to cede peace
Protestants and Catholics unify in vigils to protest the violence.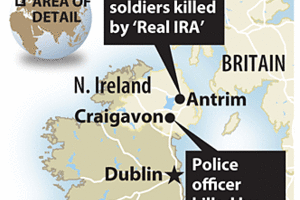 SOURCES: Reuters, AP, ESRI/© 2009 MCT
Workers in Belfast, Derry, and Newry gathered in silent vigils Wednesday to protest three recent killings that broke 11 years of calm – and to underscore, through dignified protest, how unwilling they are to surrender a hard-earned peace.
Two unarmed British soldiers and a police constable were murdered by dissident republicans opposed to the peace process in separate attacks in Antrim and Craigavon.
Although there are fears that the attacks could reopen sectarian wounds and destabilize the peace process, Northern Irish society has been united in condemning the violence.
"The horror and shock shown by the people of Northern Ireland in response to the repugnant murders ... must be expressed publicly," says Peter Bunting, general secretary of the Irish Congress of Trade Unions, which organized the vigil. "Those who long for a society at peace with itself and with others can express their solidarity with that most dignified form of protest: a wall of human silence."
The Real IRA and Continuity IRA, dissident paramilitary groups, have claimed responsibility for the attacks.
---