French ask: Should it be a crime to help illegal immigrants?
High-profile cases and a new movie have sparked debate about the boundaries between compassion and civic duty.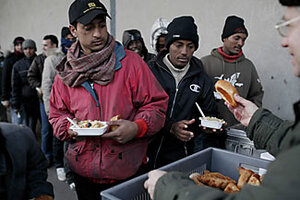 Jobard/Sipa/Newscom
Three weeks ago, police officers in northern France came knocking on the door of a food bank volunteer named Monique Pouille. They searched her home, hauled her to the station, put her in a jail cell, and kept her in custody for nine hours.
Her alleged crime: providing assistance to some of the illegal immigrants who gather at the port city of Calais in hopes of smuggling themselves across the channel to England. Specifically, Mrs. Pouille recharged their cellphones.
The case of the "good Samaritan grandma," as she is being called, might have remained a blip on the radar here, a one-shot curiosity on the national news. But shortly after Pouille's ordeal, her story found a broader echo in a highly publicized new film about a fictional Frenchman reported to the police, also for helping a young refugee.
The confluence of the two events has set off a lively debate here about the boundaries between compassion and civic duty. The film, "Welcome," tells the story of an ordinary middle-class swimming instructor named Simon, from Calais; and an Iraqi teenager who has sneaked across Europe in a desperate bid to join the girl he loves in London.
Overcoming his initial apathy and suspicion, the Frenchman takes the boy under his wing and into his home, coaching him for what he knows will be an attempt to swim the English Channel. In the eyes of the police, that makes him not just a benefactor but an accomplice.
---