Sarkozy's daring design dreams for a new 'Grand Paris'
In the first major redesign effort since Napoleon III, teams of architects offer ideas to reignite the City of Light.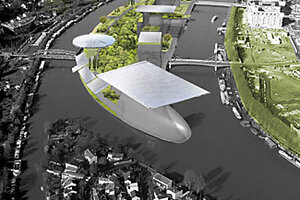 Courtesy of ateliers jean nouvel
Kings, emperors, generals, and presidents have all tinkered with the city.
It's been walled, razed, and excavated. In the zeal of modernization that seized planners in the 1970s, its skyline was pierced by a single 59-story skyscraper and its boundaries fixed in concrete by an eight-lane beltway.
Paris is once again on the drawing board. Commanded by President Nicolas Sarkozy to reimagine the capital as a "world class city," teams of internationally known architects have come up with 10 strategies for creating a metropolitan area known as Grand Paris – it's the first major redesign since the Napoleonic era.
Their ideas range from the prosaic to the fanciful. But they all say that Paris – its public transit system saturated, its periphery spoiled by ugly housing projects, and its suburbs an undefined sprawl of disconnected towns – does not work.
"It's slowly losing its vitality," says award-winning Paris architect Jean Nouvel. "What we laughingly call regional development is finished. If we want to maintain the prestige of Paris, we have to look after it."
The government hired the design teams after a competition last spring – a more optimistic time before the economic outlook in France started looking so grim. Even so, it was never entirely clear what would become of their proposals.
The political complications are formidable, given that the Paris region is made up some 400 separate local governments. A slew of master plans for urban development, big and small, already exist. And the last time anyone managed to redraw Paris on a grand scale was in the 1850s, when Emperor Louis Napoleon replaced its warren of slums with grand boulevards and perfectly aligned stone buildings.
---