2,300 years later, 'Alexander-mania' grips Macedonia
Much to the anger of Greece, the ancient conqueror is making a big comeback in Macedonia – he's arriving just in time for Sunday's election.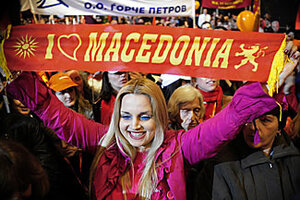 ognen teofilovski/reuters
As part of a stunning new homegrown ideology of history and identity based on Alexander the Great, this capital city's main square may soon boast a huge new statue of the ancient conqueror.
Two years ago, the national airport was renamed after Alexander, infuriating Greece.
In January, despite a recent Greek nixing of Macedonia's NATO bid over the airport name, the ruling nationalists here changed the name of its main roadway to Alexander of Macedon Highway.
In Macedonia, it is becoming all Alexander the Great, all the time. Ahead of Sunday's presidential elections, the ruling party's Alexander ideology is seen as fantastic, even by Balkan standards.
In an intense media campaign, locals are told that ethnic Macedonians are the proud direct descendants of Alexander, and thus a people responsible for spawning the white race of planet Earth, from the Caucasus "to the seas off Japan," according to a public service spot on national TV.
The "Alexander-mania," as critics call it, is partly a vote-getting strategy by the ruling party, known by its initials VMRO. Doubts exist as to whether party leaders actually believe the claims, but they are being sold as truth. The failure last spring to get a clear NATO invitation prompted fury in Skopje, and the Alexander campaign is seen as an effort to up the ante.
---