After earthquake, Italians ask questions about building codes
Critics say that lax compliance with existing regulations contributed to L'Aquila's high death toll.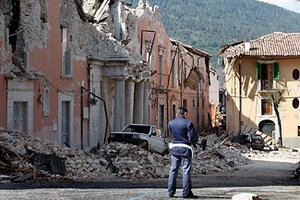 Giampiero Sposito/REUTERS
Four days after a devastating earthquake in central Italy left more than 280 people dead, attention is turning to whether a culture of impunity toward building codes contributed to the high number of casualties.
Many of the centuries-old buildings in L'Aquila, where the 6.3-magnitude quake struck overnight Sunday, sustained severe damage. But newer buildings were also affected. With Prime Minister Silvio Berlusconi vowing to rebuild the stricken town, some experts say, more stringent building codes are needed – along with tougher enforcement to ensure compliance.
"It know it sounds horrible to say this, but geologically speaking, it was not a big earthquake at all," says Alessandro Martelli, a professor of antiseismic engineering at the University of Ferrara. He notes that the majority of houses in Italy were built without any antiseismic precautions, although 70 percent of the country's territory is considered a seismic zone. Echoing a sentiment widely expressed in Italy, he adds, "If we were in Japan, a tremor of this magnitude probably wouldn't even have made it to the front page."
The problem is not a lack of technical expertise in building in earthquake zones. "Some of the new technologies that are now widely used in Japan and North America, were first tested here," Mr. Martelli says. But the law did not always keep pace, nor was it always applied: "Either for bureaucratic reasons or for economic concerns they were not taken into account by authorities."
---