Why the US will boycott global racism conference
A meeting to judge progress on racism is likely to be captive to Israeli-Palestinian and Islamic defamation issues.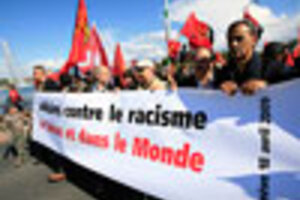 Denis Balibouse/Reuters
The first World Conference Against Racism, held in 2001 in Durban, South Africa, was all but derailed when the Israeli-Palestinian conflict took center stage.
The second global meeting against racism, discrimination, and xenophobia, which starts Monday, is on shaky ground over the same question. Over the weekend, the United States and the Netherlands pulled their delegations. Australia, Israel, Canada, Sweden and Italy have said they also may boycott the UN forum in Geneva.
The week-long event is also in trouble over the issue of religious defamation, specifically the portrayal of Islam in Western nations.
The 57-member Organization of the Islamic Conference (OIC) is expected to accuse the West of Islamophobia and press to restrict criticism of Islam. If this happens, it may upstage discussion of all other topics.
---